Air it All Out, Bloat in Goats - 1/19/2011
by Carole Pontious on 10/31/13
Perhaps the craziest thing we've seen recently on White Oak Farm is bloat. We have never seen this in the nine years we have raised goats, but on a routine visit to the barn we observed a lactating doe filled with air in her rumen the size of a basketball. We knew we had bloat because the enlarged side was on the left where the rumen is located.
We loaded the doe and her two doe kids in the trailer and headed to the vet on a brisk Sunday morning. The vet agreed it was bloat. He positioned a pvc pipe in her mouth and fed a rubber hose down her throat to her rumen. The pvc pipe was used so that the doe would not bite off the rubber hose. Once the hose entered her rumen, the vet asked me to palpitate the rumen to draw the gas out. The vet joked that one of his favorite "parlor tricks" is to light a match when the gas is released from the mouth. Talk about your flame throwers!
She was sent home with Bloat Treatment medicine by Butler Animal Health Supply, LLC. This is used as a drench at 20 cc twice a day. We have had to give it to her a couple more days since we had her at the vet. We are still not sure why she is susceptible to bloat. She is getting the same amount of feed as the rest of the does. Typically, bloat occurs with a change in ration or type of feed. Bacteria develop in the rumen creating the gas. The vet also suggested penicillin to combat the bacteria in the gut. This is just another example of the fun Boer goats can bring to a family!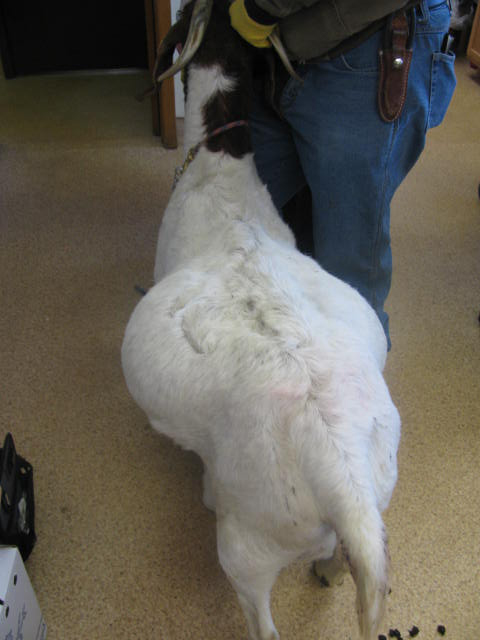 Doe exhibiting bloat observed by the swelling on left side where rumen is located.

The vet feeds the rubber hose through the pvc tube in the mouth down into the rumen to release the bloat.